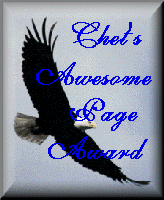 awarding site is not active
Martin,

I just finished viewing your page. You have done an excellent job! It looks as if you have spent quite a deal of time on your pages. They are well organized, easy to navigate, have great graphics & links. Congratulations! I am honored to present you with my award.

Display this award with pride as you have truly earned it.