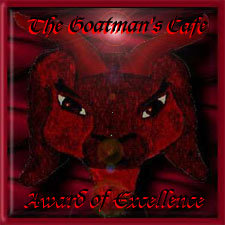 Congratulations!!!!!!!!!!
Your site is absolutely deserving of my award. It oozes creativity from beginning to end. Excellent job on all aspects of design and prose. You have given today's web surfer a rare gift. To fall upon and soak in all senses of creativity. Your written work is a revelry in thought provocation that ever so gently touches the heart with a hint of romance. Pleasing to the eye as well as the soul. You deserve this award. Bravo!!!!

Below are listed some of the requirements the judges looked for in making their decision:

-Original poetry and web page design
-Ease of getting around on web site
-Overall creativity
-Quick load time of pages

Again, congratulations and we would be proud to have you as one of our awardees.