The Shower


I am living in an apartment lent by the people I work for, here in Australia.

It is early in the morning. I want to have a shower... I undress in the bedroom and go to the bathroom, underwear in my hands - to wash them while taking the shower.

Having finished, I step out of the shower and without realizing I knock the bathroom's door, which shuts close. I do not pay attention to the door while trying to find the towel, realizing that last night I had left it in the bedroom. When going to fetch it, find the door shut, worse, can not open it. Seems to be locked. I try to force it open and ... I end up with the handle in my hand.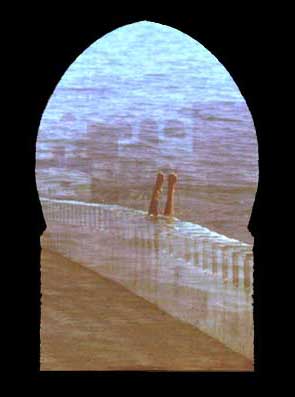 It had broken. There is no way I can open the door. I am nude with the door's handle in my hand. There is nobody in the apartment. I do not even have a towel to cover. There is only a small window leading to the streets.

I put on my wet underwear and climb the window. It is very small and is located high up. I have to stand on top of the lavatory to reach it.

I lean out though the window. My body hardly squeezes through. The window leads to the pavement. It is very high. I am facing down. I slide down face first, scratching my skin on the rough wall. The underwear drops down. I land on the payment with bare bottom.

What do I do now?

Naked in the payment; with no keys to the apartment; with the door's handle still in my hand!; I can see across the street an old lady staring at me and at the distance, two young school girls.

It is 8 o'clock in the morning.

Luckily I find the kitchen window open. Once more, through a window with my underwear sliding down. With bare bottom I land in the kitchen's sink. I need another shower. Start all over - to the bathroom.

Two minutes later the door bell rings. Wow! I say to myself, - the two young school girls got exited with what they saw!

But no, it is the old lady, she wants to know if I am all right, if I had not been too cold. I invite her for a cup of tea.

How do I go next time to the shower? Should I take the keys in my pocket? In which pocket? In the shower with pockets? Shall I put them in my ... ears? Am I going to travel the world like a Punk, with my keys in my ears?