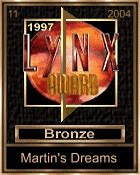 Congratulations!!! Martin's Dreams Your site has been chosen as a Bronze Award Winner of The Lynx Award for this month.

The Lynx Award is rated 4 by Award Sites , Elite 5+ by IWARA, 3 by WebsAwards

I truly enjoyed visiting your site. It is evident that you have put a lot of hard work into your site. It is an honour to present the Lynx Award to you.