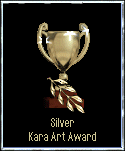 Congratulations !

You have won our Silver Award. This award is given for an excellent likeability and a good quality of the art works exhibited.

The presentation and usability of your site is very good, noteworthy, excellent, pleasant. We are aware of the time and effort that goes into creating such a web site, that's why we are very pleased to present you with the KARA ART SILVER AWARD.

A. Karamaounas and the staff.