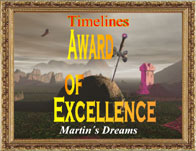 It was a pleasure for me to visit Your sites!

I see the hard work You have invested in perfecting Your sites! Your images are very impressive - in all periods. You have a very good layout and navigation. Your biography is very interesting, as a Ph.D. in computer science, Your many major achievments are impressive. At last Your postcard creator is very nice!

Your sites meet all criterias- 20 points, presentation- 20 points, design- 20 points, overall excellence- 20 points: 80 points- congratulation, You have won my Award of Excellence. It is rated by AwardSites! 2,5. The evaluator is member of Ethics Pledge.