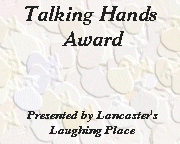 awarding site is not active
2/2

Like many of us who surf the web, which I have done since the late 1960's, starting with unix - you know before the WWW, mosiac, e-mail packets, fiber optic connections and all of the other items which have enabled many more than just academics to enjoy the splendor, I truly have found very few sites which caused me to spend more than a casual few minutes. However your site is one of those rare exceptions. Not only have I enjoyed the visit, but in some small way I would like to repay your kindness and skillful execution of your web site with out two awards

My first thought was that the candid, but tasteful presentation of love in its pure form, might be offensive to some of our visitors, then I concluded, what the hell, this is one opportunity for the originator of an award to truly show his thanks for a job well done. Noting the number of awards your site has been presented, we are sure that another is not your thing, but should you wish to post the Talking Hands Award and the True Believers Award, then please let us know.