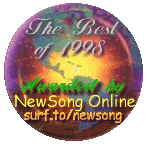 awarding site is not active
Congratulations! Your site has chosen as the Best of 1998. You have a great looking site. It is very well organized and easy to navigate. It's been a true pleasure browsing your pages.

This award is for the sites that have and show responsible contributions to the Internet and meet the requirements below.

ANY Web site displaying this award MUST be suitable for viewing by all ages, genders, or races.