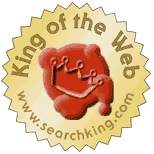 Congratulations - You have an award winning website!

You, or someone who enjoyed your site as much as we did, submitted your site to Searchking.com awards division.

We have been to your site and found it informative, easy to navigate, original and an excellent contribution to the internet community as a whole. We are proud to present this award to a quality site such as yours.