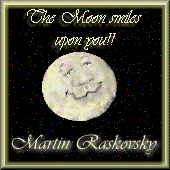 It is my pleasure to tell you that you have won my "The Moon Smiles Upon You" award.

This award is given to pages that have something special, may it be the layout or the contents. Your pages are great.. I simply love your Poetry, it touches you deep inside!!!

I loved my stay. Keep up that great work!!