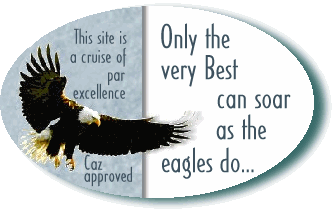 Just a short note to let you know that Caz's Whimsical Corner has acknowledged your site as one of the best of the best of the best.

Each month, I honour one site from each awards category with a special honour/link/review on my site.

Congratulations on creating such a fabulous web presence.

Review:



~Best of the Best & Touch of Class Awards~

Here's a site that is a unique exploration into the mind of the author - a poet. Ecletic, existential, unique, provoking, interesting, disturbing, refreshing, maybe shocking on occasion for some. And utterly frank and honest. Masterful presentation that is an artistic expression all on its own. This man would (and should) be considered by many to be a master poet. He is able to take words and paint a picture - and he takes pictures and paints words. This site will not appeal to everyone. But it is a web masterpiece regardless.

Content: Content-rich. Very cerebral. Very eccentric. Very provoking. Sometimes disturbing. The poet captures his thoughts and feelings and paints the portrait of his soul with the words he writes. A must for lovers of poetic literature. A master in the making at work here.

Graphics: Graphics-intense. Certainly adds to the mood of the various corners of his written thoughts. A must-see to believe. Some digital masterpieces here.

Presentation: There's a reason he won my Best of the Best, and now this Eagle award. You'll see why when you're at the site. Bold, stark, soft, subtle... all at the same time.

Reason I chose this site: I was impressed. Period. There were some excellent sites up for this award this month, but Martin's was the most unique.