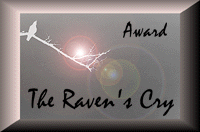 awarding site is not active


You surely know your Photoshop.... but nevertheless a beautiful arrangement, well worth of my award.

I am happy to award you with my 'The Raven's Cry Award', an 'honour' you do share with only a handful of other people.

The main reason for my decision was the combination of photos and text, which definitely enhances the impression on the visiotr. Besides, I like the mood of your photos, with 'Creation' being my favourite photos.