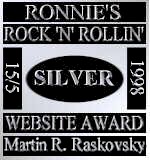 Congratulations! Your Web site has been selected to win 'Ronnies Rock 'N' Rollin' Website Award'. This award signifies that your site contains quality content and has skillful design. Your site has been chosen by me, Ronnie, to be a Rock 'N' Rollin' site.

What is the purpose of this award?
It is to signify that your site has been judged to contain quality content, design and/or HTML expertise. By displaying the award on your site, you are notifying your visitors that your site is among the best of the Web. For only the best have a chance to win such a prestigious award. I make sure that this is so, by carefully checking every nominated page.

What is my reason for having an awards site?
To give credit where it's due. I know and you probably know that it takes a lot of time and effort to create a quality site. For this reason, I feel everyone who has achieved their goal of maintaining an overall site deserves at the least, a badge of honour. The badge of honour I have to offer is the 'Ronnies Rock 'N' Rollin' Website Award. If you find that it has no meaning, it is just a graphic that someone created, then by all means, don't put it on your site. For those who appreciate the award, I am honored to present it to you.