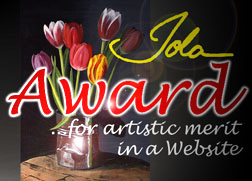 awarding site is not active
Thank you for your nomination for the "Iola Award for Artistic Merit in a Website." I have visited the nominated site and agree that it is artistic in content, style, and presentation. It is with pleasure that I issue the Iola Award to this site.

Congratulations, and thank you for your participation.